DIRECTOR OF ENRICHMENT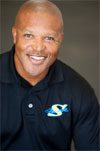 Almon Gunter is the CEO and President of Almon Gunter Motivates, Inc.  He is an acclaimed athlete  as a two-time US Olympic Trial Qualifier in track and field.  At the ages of 29 and 33 Almon ran the qualifying time to compete at the US Olympic Track and Field Trials for 200 meters. At the height of his career, Almon was ranked the 13th fastest runner in the world for 200 meters and competed internationally in over 15 countries.
Almon has trained many athletes for speed and conditioning.  Some of Almon's athletes include:, University of Alabama Derrick Henry Running Back, University South Carolina Kelvin Rainey Linebacker, US Womens National Soccer Team Players Hope Solo, Carli Lloyd, and Heather Mitts.  Canadian National Soccer Team Player Lauren Sesselmann and Japan National Soccer Team Player Aya Sameshima.  WPS Soccer Player McCall Zerboni. CFL Players Arkee Smith and Jeremy Jennings. UF Soccer Players Caroline Triglia, Northwood University Breoni Lee Basketball, UCF Soccer Players Ashley Nicole and Allie Gerry, Notre Dame Soccer Player Sarah Voight, Professional Golfer Fred Funk and approximately 800 more college athletes in 10 sports.
Almon's background in training and development, senior management, and athletics provides a unique perspective on life.  It is Almon's belief and desire for all individuals to possess the desire, dedication, and determination to succeed in achieving their goals.  His formula for success involves die-hard dedication, never-ending enthusiasm, hard work, heart and hustle, with the end result of becoming a MVP in the game of life.
Almon Gunter
Director of Training Top Recruits Now