COMBINE FAQ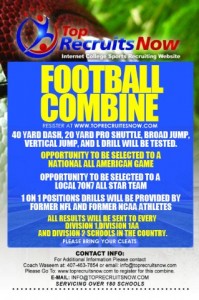 What is the purpose of the Top Recruits Now Combine?
To provide student-athletes, with standardized testing in combine events and increase their recruiting exposure to colleges.
What are the benefits of coming to a Top Recruits Now Combine? (For the Athlete)
Each particpant will be given a CD-Rom  for FREE with every Div 1, Div 1AA, Div 2, Div 3, Junior College, and NAIA football program's telephone number. ($40 value)
National scouts from Rivals, Local Newspaper, and different High School All American Games.
You will receive your standardized testing results to send to the school of your choice.
Chance to be invited to Top 250 event Memorial Day weekend that will consist of one on one, and positions drills which will be filmed and sent to college coaches.
What is the cost of the Top Recruits Now Combine?
The cost of participation in the combine is never over $40.  You can pay online or pay at the location. However, we do put a limit on the number of participants @ 250. What that means is that once we have 250 participants we will not add anyone else.
Is there a group discount? How can we register as a group?
A group discount is available for groups of 20+ participants. The group discount rate is $30 for each participant. To receive the group discount, send an email to info@toprecruitsnow.com that includes your group/school name along with the names of each member of the group. Download the paper registration form and send payments to Top Recruits Now, P.O. Box 2592, Apopka, Fl 32704
When will the combine results be posted?
The results will not be posted online.  We will send our results to all Div 1, Div 1-AA, schools.   However, the student athlete will be given their personal results to send to the school of their choice.
Do you laser time or hand times the testing events?
At some events we do hand time but at some events we do laser.
Who will be working at the combine?
The combine will be run by former players with college and professional playing experience and area high school coaches.
What do I need to bring to the combine?
You will need to bring a completed and signed consent waiver, cleats for on-field work, running shoes for off-field events, anything needed for position drills (gloves, wristbands, etc.), and any water of snacks desired.
Is there a refund if I cannot attend the combine?
 There are no refunds for the combine unless the event is canceled. We reserve the right to change the location and/or date of the combine. If you cannot attend the combine we will credit your registration to an alternate date and location of another Top Recruits Now Combine.
What is the parent and coach code of conduct?
Parents and coaches are allowed, and encouraged, to attend the Top Recruits Now Combine. No one, other than the participants, will be permitted on the field during the combine. Please demonstrate the sportsmanship we are trying to teach our sons by cheering for your son and not against others