CAMPS/COMBINES
.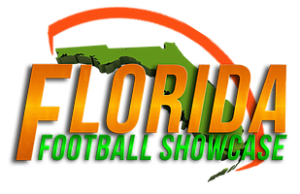 http://www.floridahsshowcases.com/
Florida Football Showcase is our partner for Camps and Combines.
These  combine are for skill players, running backs, wide receivers, tight ends, defensive backs, offensive lineman, defensive lineman and linebackers. The Florida Football Showcase will go through specific drills and one-on-one passing where they will be rated. One of the unique things about Florida Football Showcases is the fact that athletes only compete against other athletes in their grade. For example, 9th graders go against 9th graders, 10th against 10th and 11th against 11th. Only in smaller camps can two grades be combined, but all athletes are evaluated based on their grade at all times.
Florida Football Showcases works with the U.S. Army All American Game. All information goes to the U.S. Army All American Game Selection committee. On the high school level showcases, the Underclassman who is the Combine MVP and the Fastest Man will be giving invitations to attend the U.S. Army All American Combine in San Antonio the preceding year.
On the youth level showcases certain athletes will be selected to participate in FBU Top Gun, FBU National Championship, and to other youth All American Games.
Finally, we believe in Swag that is why Battle is our Swag Sponsor. Finally, it is all about education and an NCSA rep will be in attendance to discuss scholarship opportunities. Therefore, come to the event and Show Up, Show Out, and get Scholarships.